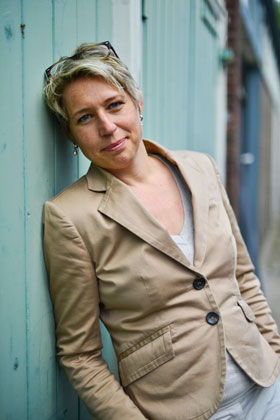 As an Empathic desiner with a specialty in Social Design and Cultural Diversity I work from my studio CvdBremen in Eindhoven, the Netherlands. Through design thinking I initiate, organise & realise Co-design processes and projects within a multi-stakeholder context. I work within neighbourhoods, organisations and companies. Assignors are municipilities, housing corporations, cultural organisations and educational institutes.
In 1999 I graduated at the Design Academy on a range of sport hijabs that atracted a lot of international media attention and resulted in orders coming in. In 2001 I launched the brand Capsters and opened the webshop www.capsters.com. The Capsters BV was established in 2008 when business partner Karin Mastenbroek joined. Capsters is now the world leading brand in sport hijabs, won a Good Design Award and is part of the MoMa collection in New York.
Due to the invites from various universities and academies I decided to obtain my teaching degree in art & design. I teach at the Eindhoven Technical University at the faculty Industrial Design within my field of expertise: Social Cultural Awareness and at various other institutes like the Design Academy Eindhoven.
For both national and international audiences I give presentations and lectures about my work & vision on social design and cultural diversity. Besides creating & developing concepts and designs, I love to write. Several of my articles have been published and in 2001 I published the book Hoofddoeken about hijabs.
Download resume CvdBremen               Download references CvdBremen              Download press photo CvdBremen
Empathy Interview by The Center for Building a Culture of Empathy